Artist's Statement
I believe that art is the act of creation. The result, whether it is a painting, sculpture, photograph etc., is simply a record of the creation experience. My approach is to free myself from preconceived visual beliefs and interpret the world directly before me. In so doing, I rediscover the colors, textures and values of everyday life that we otherwise take for granted. This is what drives me to paint and what I encourage in my students. My art is the product of diligence in practice. I do not believe in talent. I believe that all of us have the potential to create art, if we choose to dedicate ourselves to the pursuit.
Biography
Patrick Saunders is an artist, painting and creating fine art in Kansas City. He has studied with many renowned painters, including Mark English, Malcolm Liepke, Wilbur Niewald, Richard Schmid, and Burton Silverman. Painting a variety of subjects including portraits, pet portraits, landscapes, cityscapes, and florals - Patrick's work is sold internationally. Always seeking the next challenge, Patrick has worked as an illustrator, designer, animator, educator, musician, entrepreneur, and a fine artist.
Throughout his career, Patrick has been recognized by his peers for outstanding work, earning awards from the American Advertising Federation, the International Academy of the Visual Arts, the Web Marketing Association, the Society of Illustrators, and Communication Arts. In 2001, he was featured by Southwest Art Magazine as one of their 21 Artists to Watch Under 31. In 2006, his students at the Kansas City Art Institute voted to honor Patrick with the award for Educator of the Year. In 2013, Patrick turned his attention to plein air painting, entering and winning numerous regional and nationally recognized competitions.
Education
Kansas City Art Institute - Bachelor of Fine Arts - 1992 Press OutdoorPainter.com, March, 2014 Kansas City Live, KSHB, March 2014 OutdoorPainter.com, November, 2013 Kansas City Star, August, 2003 Southwest Art Magazine, September, 2001 Kansas City Star, April, 2000 Kansas City Sun, January, 2000 Communication Arts Illustration Annual, 1996 Society of Illustrators, 1992 Society of Illustrators, 1991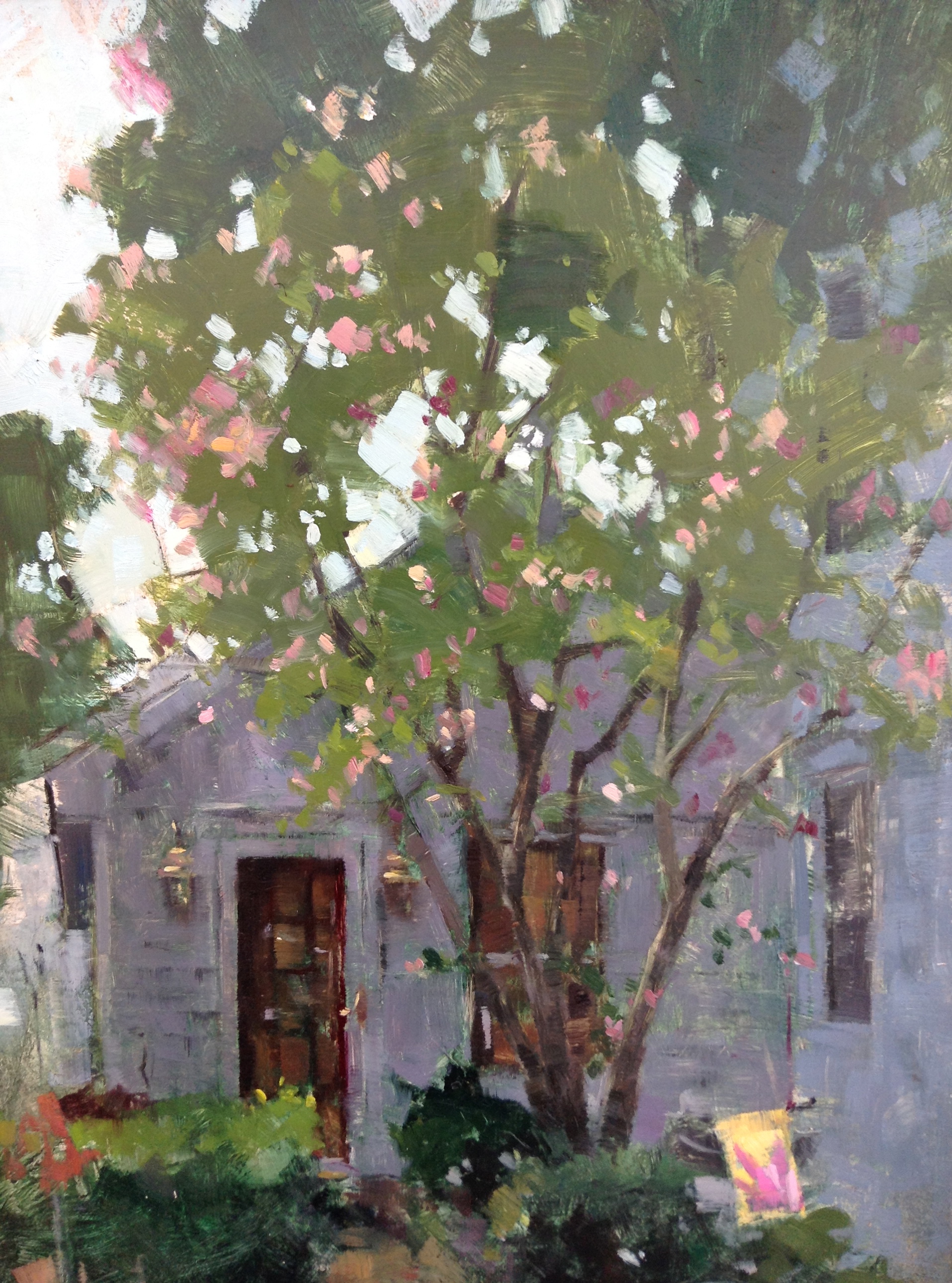 Exhibitions
Oil Painters of America National Juried Exhibition Cutter & Cutter Fine Art – St. Augustine, FL – May, 2015
Henderson Engineers – Lenexa, KS – January, 2015
Waddell & Reed – Kansas City, MO – October, 2014
Oil Painters of America Eastern Regional Juried Exhibition – Cincinnati, OH - September 2014
Tomahawk Ridge Community Center – Overland Park, KS – July 2014
Oil Painters of America National Juried Exhibition – Bennington, VT - June 2014
Buttonwood Art Space – Kansas City, MO – June, 2014
Eva Reynolds Fine Arts - Leawood, KS – April, 2014
Freeland Photography – Lee's Summit – MO – March, 2014
Berkowitz Oliver – Kansas City, MO – January 2014
Hooray for the Holidays Charity Auction Mission Farms, Leawood KS – November, 2013
KCAI Fireside Committee Gala for the KCAI Scholarship Fund November, 2013
Bruce Watkins Cultural Center – Kansas City, Mo – October, 2013
Wise Gallery – Kansas City, MO – April 2013
Wise Gallery – Kansas City, MO – December 2012
Oil Painters of America National Juried Exhibition Nichols Taos Fine Art Gallery – Taos, New Mexico – May, 2003
Northern Colorado Artist Association National Juried Exhibition Loveland, CO – April, 2003
Face It: Portraits - St. Louis Artists' Guild - St. Louis, MO - January, 2003
Artists For the New Century - Bennington Center For the Arts Bennington, VT - September 2002
Lake Forest Art Expo - Chicago, IL - June, 1998
Art In the Woods - Corporate Woods - Overland Park, KS - May 1998
Sheraton Suites Hotel - Kansas City, MO - March, 1998
Lake Forest Art Expo - Chicago, IL - June, 1997
Lake Forest Art Expo - Chicago, IL - June, 1996
Eva Reynolds Fine Arts - Lenexa, KS - July,1995
Zografia Gallery - Kansas City, MO - May, 1995
Yako Gallery - Kansas City, MO - January, 1993
U.S. Department of Energy - Washington D.C. - September 1992
Kansas City Art Institute Kemper Gallery - Kansas City, MO - May, 1992
Society of Illustrators Museum Juried Exhibition - New York, NY – May, 1992
Kansas City Art Institute - Kansas City, MO - January, 1992
Society of Illustrators Museum Juried Exhibition - New York, NY – May, 1991
Prairie Village City Hall - Prairie Village, Kansas - April, 1991
Awards Augusta Plein Air – Best of Show – April, 2015
Augusta Plein Air – First Place Oil Painting Award – April, 2015
Augusta Plein Air – Artist's Choice Award Winner – May, 2015
Augusta Plein Air – Purchase Award Winner, Montelle Winery – April, 2015
Maple Leaf Paint Out, Carthage, MO – First Place – October, 2014
Oil Painters of America Paintout, Marceline, MO – Purchase Award Winner – September, 2014
1st Annual KC Big Picnic Quick Paint – Purchase Award Winner – July, 2014
Stems Plein Air Paint 2014 – First Place, Oil Category 1 – June, 2014
Stems Plein Air Paint 2014 – Second Place, Oil Category 2 – June, 2014
Stems Plein Air Paint 2014 – Purchase Award Winner, Quick Paint Evening Event – May, 2014
Penn Valley Park Plein Air Fest – Best In Show – May 2014
Penn Valley Park Plein Air Fest – Purchase Award Winner, Firefighters Memorial Quick Paint – May 2014
Parkville In Art Plein Air Competition – Best In Show – October, 2013
Parkville In Art Plein Air Competition – Best Oil Painting – October, 2013
Parkville In Art Plein Air Competition – Olde Mill Purchase Award Winner – October, 2013
Brush Creek Art Walk - First Place, Zone 1 - October, 2013
Brush Creek Art Walk – Purchase Award Winner, Quick Paint– September, 2013
View more work at www.PatrickSaunders.com